A
Mail Strike
works in basically the same way as the
Air Strike
; the direction of the bombing (from the left or from the right) can also be changed, like Air Strike. However, the Mail Strike does not drop small, normal bombs, instead dropping five letter bombs which does damage of about 50 HP/letter. These letter bombs are affected by wind, and flutter from left to right slightly at random, meaning that a mail strike is a very imprecise weapon; it is best used for bombing a very wide area. In Worms 3D, it appears as the "Lottery Strike" and does random damage ranging from 1 to 49.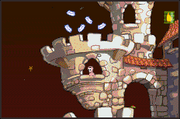 Using The Mail Strike
The same as the Air Strike, just select the area where you want to drop it, but be careful of the wind as it can be affected by wind.
In Worms 3D
This weapon appears as the "Lottery Strike" in Worms 3D. It cannot be unlocked, but it can be used through the tutorial "The Driving Range"