Line 1:
Line 1:
 

== Discription ==

 

== Discription ==

 

[[File:WormsW.M.D CraftedWeapon MegaPunch.png|thumb|168x168px]]

 

[[File:WormsW.M.D CraftedWeapon MegaPunch.png|thumb|168x168px]]

−

The '''Mega Punch''' is a purple version of the [[Fire Punch]], it's stronger and catapults further. It's fire is blue on its icon but purple in-game.

+

The '''Mega Punch''' is a purple version of the [[Fire Punch]], it's stronger and catapults further. fire is blue on its icon but in-game.

 

== Ingredients ==

 

== Ingredients ==

 

''Boggy's Special Sauce x4''

 

''Boggy's Special Sauce x4''
---
Revision as of 15:57, 7 November 2019
Discription
The Mega Punch is a purple version of the Fire Punch, it's stronger and catapults further. Its fire is blue on its icon but in-game it's purple.
Ingredients
Boggy's Special Sauce x4
Sticky Donkey Paste x2
*Banana Bomb Seeds x0
**Tears of a Worm x0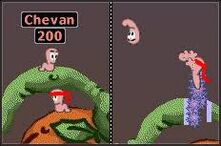 Trivia
In previous Worms games the Fire Punch was blue/purple instead of red, so W.M.D brings both types.