Discription
The Mega Punch is a purple version of the Fire Punch, it's stronger and catapults further. Its fire is blue on its icon but in-game it's purple.
Ingredients
Boggy's Special Sauce x4
Sticky Donkey Paste x2
*Banana Bomb Seeds x0
**
Tears of a Worm x0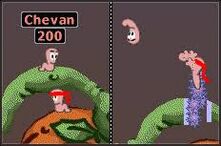 Mega Punch
Information
Type
Fire Punch
Range
Close-range combat
Damage
50 HP
Additional effects
Tosses Worm
Appears in
All Worms games (more or less)
Affected by
Gravity

Wind

Electromagnets
Trivia
In previous Worms games the Fire Punch was blue/purple instead of red, so W.M.D brings both types.
Community content is available under
CC-BY-SA
unless otherwise noted.