Mike's Carpet Bomb, or more simply Carpet Bomb, is a weapon that drop exploding carpets from the back of Mike's van that devastate the landscape below it. The weapon mechanism is a pun on real carpet bombing where large amounts of small bombs are dropped on an area.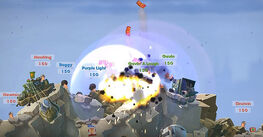 The carpet bomb can be dangerous to you as well as your enemy, as the air-strike bounces erratically like the Banana Bomb.  Each carpet roll will explode and bounce up to five times.
Wormopedia Entry
Wall-to-wall Danger!
The Carpet Bomb is very similar to the Sheep Strike in its bouncy and sustained damage method of attack. Unleashing a string of lethal shagpiles onto the mushy cheese-boxes of the enemy, the Carpets will certainly stamp out the enemy.
If possible, avoid going for just one enemy Worm, that is unless it is the last Worm remaining. It is always better and resourceful to aim for a group of enemy Worms so that the chances increase of getting multiple kills instead of just the one.
Using the Carpet Bomb
Just select a target with the mouse and press Fire. You can switch which direction the bombing run comes from with the Z key.
Trivia
"Mike's Carpets" is a chain of carpet shops around West Yorkshire, which is most likely where this weapon's name comes from.
Community content is available under
CC-BY-SA
unless otherwise noted.