Description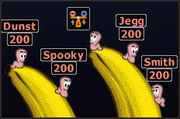 The Scales Of Justice (shortened to SOJ) redistribute/balances the total life points equally among all surviving teams (first) and all worms within each team (second). This utility should only be used if your team has the least HP points of all surviving teams. The Scales of Justice simply appear to be a pair of scales, and when used, the Scales of Justice emits a powerful booming laugh and snappy comments like "X evens the score", "Even Stevens", or "X calls it even". (Do note, that "X", in this case is the name of the worm which uses it.) It is considered a superweapon because it can change your enemy worms' HP near to 0 in order to balance HP of the teams. It balances like this for example:
Before
Team A
Team B

Aaron: 100 health points
Air Killer: 100 health points
Alex: 100 health points
Albert: 100 health points

Bob: 100 health points
Billy: 100 health points
After
Team A
Team B

Aaron: 75 health points
Air Killer: 75 health points
Alex: 75 health points
Albert: 75 health points

Bob: 150 health points
Billy: 150 health points
Usage
Once selected, simply press the Fire Button.
Tips & Tricks
This Utility makes the health points of every team equal, So if you only have two worms left (200 HP) and the enemy has four worms left (400 HP), you will get 150 HP each of your worm, and your opponent 75 HP each.
This utility can be used when your enemy has more worms than you, so that your enemy worms will have a lower HP equal to your team.
It is recommended to use this if many of your worms are nearly into death so your worms can be quickly recovered.
Never use this utility if your team is in the lead and the enemy is almost defeated.
Trivia