Teleport is a utility in the Worms series which moves your worm to a designated location which you can specify with the cursor.
Description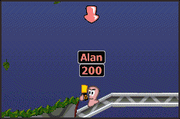 Teleport is used to move the user to any desired location. The user can specify this location. After the Teleport has been used, the user does not have any retreat time. This means that the user can not move in the same turn after using the Teleport. This makes the user an easy target if he/she does not Teleport with care.
Usage
The player can use the Teleport by moving the cursor and then pressing the Fire Button at the desired location.
Tips & Tricks
The player can use the Teleport to collect Crates. The player should mind that there is no Retreat Time with the Teleport.
If the player wants to Teleport all of their worms, they should consider using the Emergency Teleport.
If the last enemy worm has low health, you can Teleport one of your own low-health worms high above, dealing fall damage to your worm and having the death explosion kill the enemy worm.
Trivia
See also
Community content is available under
CC-BY-SA
unless otherwise noted.