Description
The Tunnel Kit is problaly one of the best Utilities in Worms W.M.D. Unlike the Blow Torch you can use it more than once a turn, you can use it 3 times!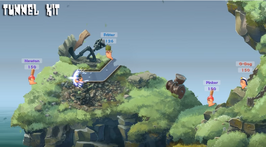 Tunnel Kit
Information
Effects
Cuts through terrain, tosses, burns
Range
Small
Appears in
Worms W.M.D
Abilities
While digging, you can also toss and burn enemies.
Ingredients
Boggy's Special Sauce x4
Sticky Donkey Paste x4
*Banana Bomb Seeds x0
**Tears of a Worm x0
Community content is available under
CC-BY-SA
unless otherwise noted.