Worms Clan Wars

Official logo for Worms Clan Wars
Information
Developer
Team17
Publisher
Team17
Platforms
Microsoft Windows
Mac OS X
Linux
Release date
Microsoft Windows & MAC OS X
August 15, 2013
Linux
2 March 2015
Rating
ESRB: Everyone 10+
Genre
Turn-based strategy game
Technical Information
Website
Team17.com
Updates
Steam
Worms Clan Wars is an artillery-strategy game developed by Team17. An updated console version, entitled Worms Battlegrounds, was released in 2014.
Many gameplay features from previous Worms games return, such as water mechanics and Physics Objects. The classes system which was introduced in Worms Revolution also returned. A day and night system was also introduced.
Customization has a large role. Players can create emblems, team flags and landscapes with the landscape editor. With Steam Workshop Integration players can create custom content for their worms.
Many weapons such as the Concrete Donkey, Holy Hand Grenade and Bovine Blitz (from Worms 4: Mayhem and Worms: Ultimate Mayhem) return. New weapons include Mega Mortar, Gravedigger, and The Equalizer.
Multiplayer
Worms Clan Wars features WormNET which serves as a lobby and chat system allowing players to keep in touch. Clan systems will play a large role during multiplayer. A companion app as well as a Web Portal allows players to track their multiplayer statistics when offline or on the go.
Story
The Single Player Campaign features 25 missions across 5 environments: Inca, Prehistoric, Viking, Feudal Japan and Industrial Revolution. It focuses on a character named Tara Pinkle who serves as the game's narrator, as well as providing missions for the team. In addition to Story Mode, it features 10 Worm Ops missions that feature Time Attack modes.
Weapons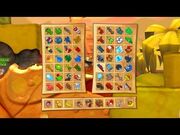 Module 1 (Top left) - Weapons
Module 2 (Top right) - Utilities
Module 3  (Bottom) - Superweapons
*Italicized weapon names are introduced in Clan Wars.
Achievements
Main article: Worms Clan Wars/Achievements
Worms Clan Wars includes 14 Steam Achievements.
Gallery
External links
Community content is available under
CC-BY-SA
unless otherwise noted.