Worms Reloaded/Campaign Mission 4
Information
Mission Type
Deathmatch
Difficulty
Easy
Number of Friendly Worms
4 (100 HP)
Number of Enemy Worms
3 (50 HP)
Landscape
Manhattan
Enemy Teams
New Yorkers
Reward
20 coins
Bought in Shop?
No
Game
Worms Reloaded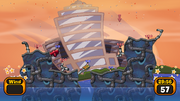 The 4th Mission in the Worms Reloaded Campaign is described as an easy mission. You have 4 worms which has 100 HP vs. 3 enemy worms with 50 HP
In-Game Description
Right! This is the time for action! This tricky lot needs disposing of and you're the person to do it! Good Luck!
Description
You have 4 worms, 2 of your worms start at the edge of the map, the right one being higher than the other. The 2 other starts on top of pipe objects on the landscape. There are 3 enemy worms, one starts on top of a traffic light object above a hole in the center of the landscape, 1 starts of near the right of the traffic light, and the last one on a fire hydrant next to one of your worms. The first worm to go is your worm which is on the pipe object to the right. The first turn can be very easily used to kill the worm on the traffic light, and the rest of the match, just try to kill all the enemy worms as fast as possible. This match is easy, even to newbies.
Weapons
Tips & Tricks
Bazookas and grenades are enough to win this mission.
Community content is available under
CC-BY-SA
unless otherwise noted.