Worms Reloaded/Campaign Mission 7
Information
Mission Type
Deathmatch
Difficulty
Easy
Number of Friendly Worms
3 (100 HP)
Number of Enemy Worms
3 (100 HP)
Landscape
Medieval
Enemy Teams
Ye Olde Skool
Reward
20 coins
Bought in Shop?
No
Game
Worms Reloaded
The 7th Mission in the
Worms Reloaded
Campaign is the first campaign mission to take place in the medieval theme.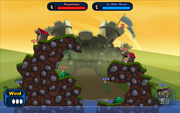 In-Game Description
Times were hard in the medieval age. Let's hope this deathmatch doesn't pose too much of a threat to you. Now take out the enemy!
Description
This is the first campaign mission where the player's team and the enemy team have the same amount of worms and HP at the start of the match. All of the enemy worms spawn near the water, so they can easily be taken down by making them drown. In case the player cannot reach the enemy worm, he/she should use the Air Strike if possible.
Weapons
Tips & Tricks
The player should try to get the enemy worms to drown in the water as soon as possible.
Community content is available under
CC-BY-SA
unless otherwise noted.