Worms Reloaded/Campaign Mission 8
Information
Mission Type
Puzzle
Difficulty
Very easy
Number of Friendly Worms
2 (31 and 1 HP)
Number of Enemy Worms
2 (1 HP)
Landscape
Medieval
Enemy Teams
Ye Olde Skool
Reward
20 coins
Bought in Shop?
No
Game
Worms Reloaded
Mission 8 of Worms Reloaded is a puzzle-mission.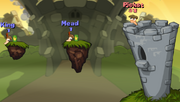 In-game description
Defeat all of the enemy worms to complete this Puzzle.
Description
The player will get two worms in this mission. First of all, the player should use the Fire Punch to punch his worms with 31 HP to the right. Then, that worm should use his Kamikaze to finish off the enemy worms.
Weapons
Worms Reloaded missions
←

Reloaded: Campaign mission 7

Reloaded: Campaign mission 8

Reloaded: Campaign mission 9

→
Community content is available under
CC-BY-SA
unless otherwise noted.