Worms Reloaded/Campaign Mission 9
Information
Mission Type
Deathmatch
Difficulty
Easy
Number of Friendly Worms
4 (100 HP)
Number of Enemy Worms
3 (75 HP)
Landscape
Medieval
Enemy Teams
Ye Olde Skool
Reward
20 coins
Bought in Shop?
No
Game
Worms Reloaded
Campaign mission 9
of
Worms Reloaded
is a deathmatch mission.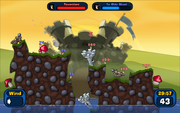 In-game description
You're progressing well. Now, we need to get rid of these enemy worms, oh brave one!
Description
This deathmatch is still a fairly easy match. All of the enemy worms will spawn on the left, while the friendly worms will spawn in the right. The player will have to aim pretty well in case the player is out of Air Strikes. The player could also use his Jet Packs to get closer to the enemy so he can use close-range weapons like the Shotgun.
Weapons
Tips & Tricks
The player should use his Jet Packs to get ready for close-combat in case the player is not good at aiming,
Community content is available under
CC-BY-SA
unless otherwise noted.